Advincula formally installed as cardinal in unusual consistory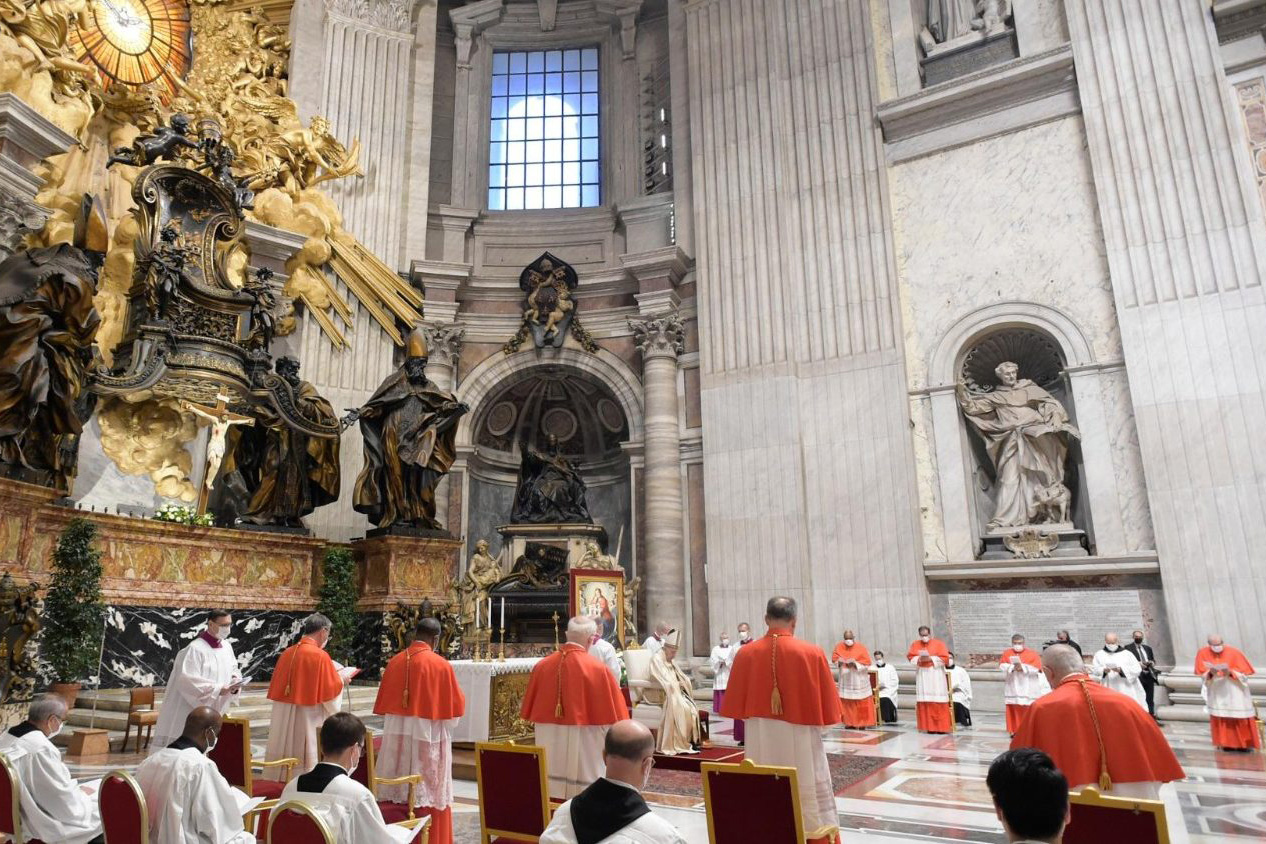 Pope Francis leads a consistory ceremony for the creation of 13 new cardinals in St. Peter's Basilica at the Vatican Nov. 28. VATICAN MEDIA
Pope Francis has formally elevated Archbishop Jose Advincula of Capiz to the rank of cardinal in an unusual consistory at the Vatican on Saturday.

Advincula was created a cardinal despite failing to make it to the Vatican because of restrictions related to the Covid-19 pandemic.
Cardinal Cornelius Sim of Brunei also skipped the "red hat ceremony" for the same reason.
Advincula instead followed the occasion at his residence in Roxas City via livestream from the St. Peter's Basilica. Wearing a "choir" cassock, he watched the consistory along with some priests.
The cardinal also admitted of still having "apprehensions" because of the tasks attached to his new mission.
In the Vatican, the pope read each of the names of the 13 new "princes of the church" and gave those present their red hats and rings.
Cardinal Jose Advincula of Capiz watches livestream of the consistory at his residence in Roxas City Nov. 28. PHOTO COURTESY OF CASAC
The new cardinals also promised to obey the pope. Their main task is to offer him advice and eventually elect his successor.
At 68, Advincula is eligible to vote in a conclave. He is also one of the only two active Filipino cardinal aside from Cardinal Luis Antonio Tagle who is now based in the Vatican.

The Holy See press office earlier said that Advincula and Sim will still receive their distinctive insignia, but on a later date.
The press office said that a representative of the pope would present them with the red hat, cardinal's ring and title connected with a Roman parish "at a time to be decided later".

According to Vatican News, the physical distance made Saturday's consistory unusual "but not unprecedented".
It said that in February 2014, a cardinal-designate got a special dispensation to skip the in-person ceremony due to age and ill-health. The Dean of Cardinals then bestowed the biretta and cardinal's ring upon Cardinal Loris Francesco a month later.
The new cardinals did not also follow the long-standing tradition of receiving well-wishers after the ceremony because of Covid-19 restrictions.

DONATE TO CBCP NEWS
CBCPNews is a church-based news agency operated by the Media Office of the Catholic Bishops' Conference of the Philippines.  This apostolate aims at helping the work of the new evangelization through the news media.  This is non-commercial and non-profit.  That being the case, it totally depends on generosity of its readers and supporters.
Should you wish to donate kindly press the donate button.  Thank you.