Asia's Catholic bishops to 'embark on new journey' as they mark FABC's 50 years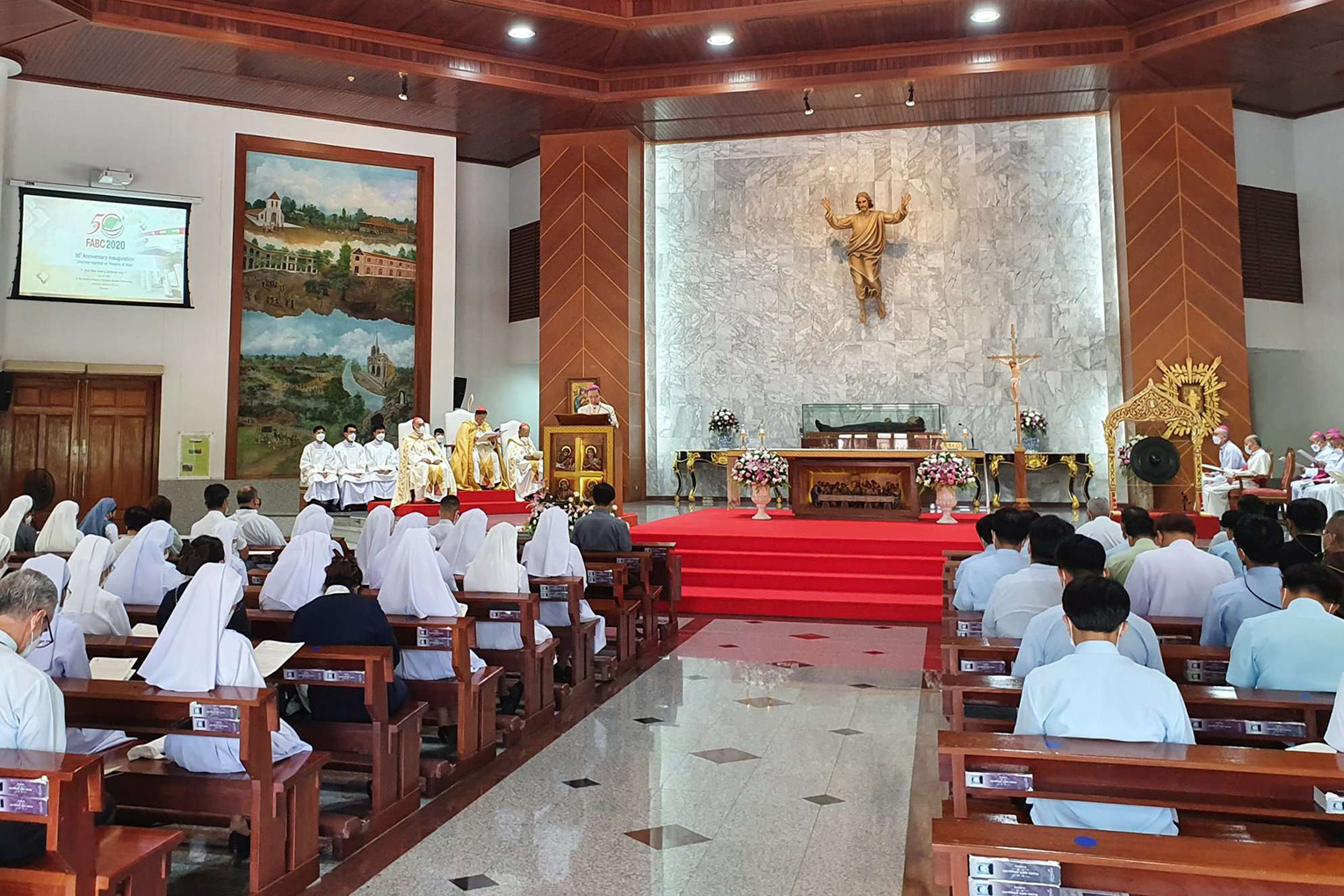 Church leaders and representatives of various lay and religious organizations from across Asia attend the inauguration of the 50th anniversary celebration of the Federation of Asian Bishops' Conferences in Thailand on August 22, 2022. PETER MONTHIENVICHIENCHAI/LICAS NEWS
Asia's Catholic bishops will be embarking on a "new journey" as they launched this week the 50th anniversary of the Federation of Asian Bishops' Conferences FABC.
"We will start a monumental task of reaffirming, renewing, and revitalizing the Church in Asia," said Cardinal Oswald Gracias of Bombay, convenor of this year's celebrations, at the opening ceremonies in Thailand on Monday, August 22.
"We will gather to commemorate, celebrate and chart the direction that we, as Church in Asia, will take on our journey together in the next decades," said the prelate.
In his message for the occasion, Pope Francis expressed hope that FABC's General Conference, which will be held in October this year, will "renew the Churches in Asia in fraternal communion and in missionary zeal for the spread of the Gospel among the richly diverse peoples, cultures and social realities of the vast Asian continent."
This year's celebrations and conference will carry the theme "Journeying Together as People of Asia…. 'and they went a different way.'"
Pope Francis said it is "most fitting within the broader context of the synodal path of listening, dialogue and discernment undertaken by the universal Church."
The next Ordinary General Assembly of the Synod of Bishops will be held in Rome in 2023.
"I pray that the deliberations of the (FABC) General Conference will enable your local Churches to develop, within the polyhedric unity of the People of God (cf. Evangelii Gaudium, 237), creatively '"different ways' to proclaim the joy of Gospel, to form new generations of missionary disciples, and to labour for the extension of Christ's kingdom of universal holiness, justice and peace," said the pope in his message to the people of Asia.
Cardinal Charles Maung Bo of Yangon, FABC president, said the "long journey" of the people of Asia has given the Asian Church "a vibrant identity, constantly challenging us to be a missionary church."
"Much has been achieved," he said, adding that the Church is "grateful to all those who shepherded that process."
More than 140 Church leaders from across the Asian region are expected to attend the FABC General Conference Bangkok in October.
The FABC is a voluntary association of episcopal conferences in Asia that was established with the approval of the Holy See. Its aim is to foster among its members solidarity and co-responsibility for the welfare of Church and society in Asia.

DONATE TO CBCP NEWS
CBCPNews is a church-based news agency operated by the Media Office of the Catholic Bishops' Conference of the Philippines.  This apostolate aims at helping the work of the new evangelization through the news media.  This is non-commercial and non-profit.  That being the case, it totally depends on generosity of its readers and supporters.
Should you wish to donate kindly press the donate button.  Thank you.