At NYD opening, Archbishop Palma urges youth to follow Mary's example
Thousands of pilgrims gather for the opening Mass of the National Youth Day at the Basilica Minore del Santo Niño de Cebu Pilgrim Center in Cebu City April 25. ELMARC LIM
At the start of the National Youth Day in Cebu City on Wednesday, Archbishop Jose Palma urged young people to be servants to one anther.
Speaking at the NYD opening ceremony at the city' sports complex, he highlighted the way Mary was always open to the Lord's will, describing her as a role model to be followed.
"We know that like her (Mary), we are beloved, gifted and empowered," Palma told the more than 15,000 pilgrims from across the country.
"As you come we repeat over and over again like what Mary did, 'I am the servant of the Lord,'" he said.
From the sports complex, the pilgrims walked in procession to the Basilica Minore del Sto. Niño de Cebu for a Mass presided over by Palma.
In his homily, the archbishop said that the church need young people who are not cowed in the face of difficulties, "dashed hopes and broken dreams".
He urged them not to flee from the resurrection of Jesus, and not to give up to temptation against holiness.
"The church reminds us that Jesus who is Risen from the dead walks with us in the journey," Palma said. "Whether we recognize it or not, Jesus walks with us."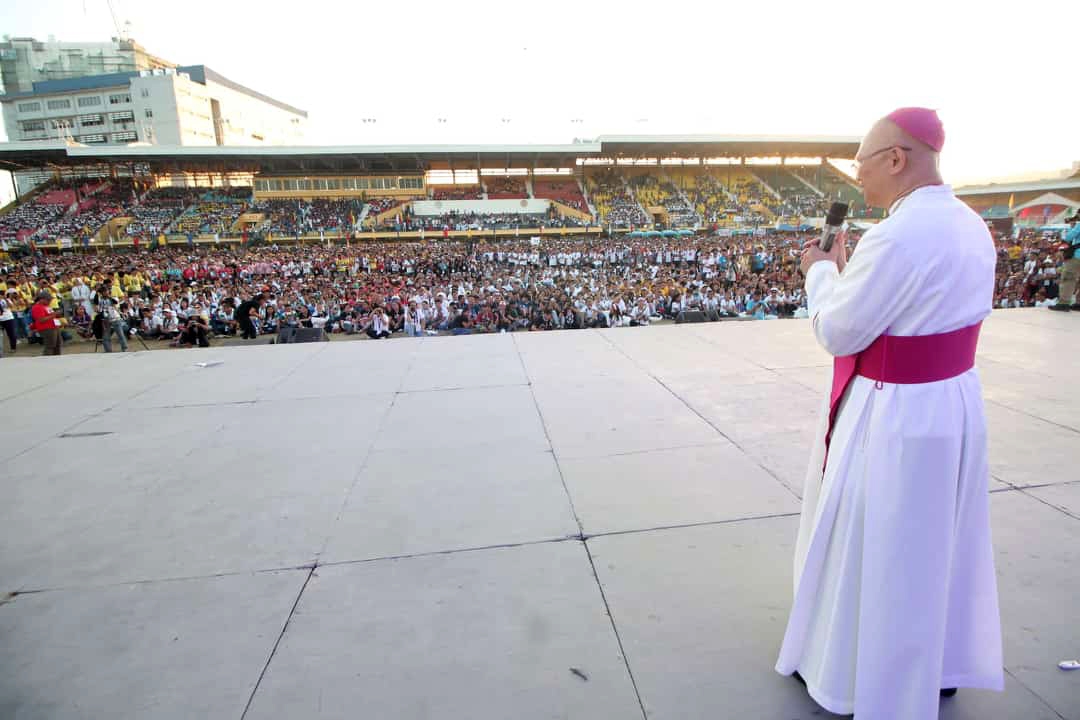 Archbishop Jose Palma welcomes the National Youth Day delegates at the Cebu City Sports Complex April 25. SAMMY NAVAJA
The Catholic Bishops' Conference of the Philippines earlier urged the pilgrims to spread the Easter joy to someone else in their lives.
"May you radiate the Easter joy to other young people and to the community that you serve and live in," said Archbishop Romulo Valles of Davao, CBCP President.
"That joy should translate into service of love and compassion, especially to the youth and other people in the community," he said.
The turnout in Cebu – considered the cradle of Christianity in Asia – is the largest in the history of NYD.
Cebu's hosting is also part of the Church's preparations for the fifth centenary of the arrival of Christianity in the Philippines.
The CBCP in 1986 declared every December 16 as the NYD where Catholic youth and young adults gather to celebrate their faith in their dioceses and parishes.
For many years, this went on as local celebrations while there have been big activities in Manila.
In 1998, the first NYD on a national scale was held in the Diocese of Malolos. Since then, it is celebrated every two or three years, and on off years, there is a smaller celebration in the dioceses.
Attendees spend time visiting the host diocese, performing community service, and participating in festival events.
Archbishop Gabriele Caccia, the Apostolic Nuncio to the Philippines, will be present starting April 27 where he will a dialogue with the young people.
A Mass will conclude the NYD celebration to be presided by Archbishop Caccia, along with other bishops on April 28.