Attachment to money destroys people— Cardinal Tagle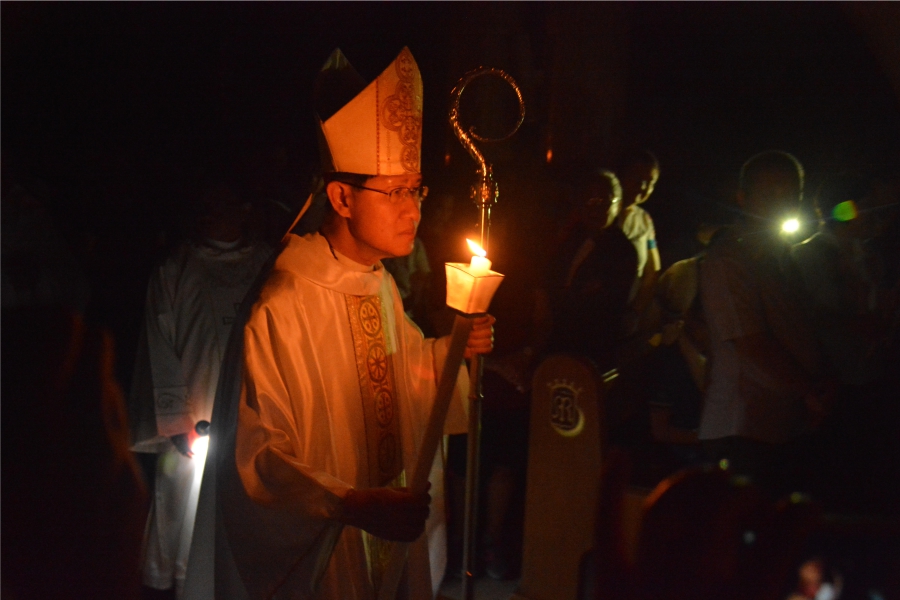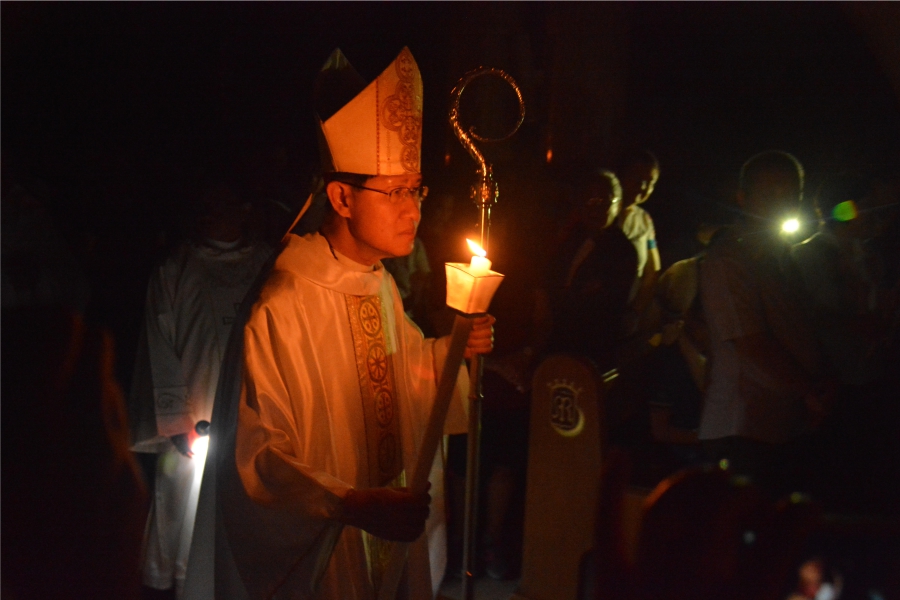 Cardinal Luis Antonio Tagle carries a candle during the Easter Vigil at the Manila Cathedral, April 15, 2017.
ROY LAGARDE
MANILA— Greed and an attachment to money is the cause of many social and economic woes, Cardinal Luis Antonio Tagle of Manila said on Easter Sunday.
Reflecting on the Gospel of St. Matthew (Mt 28:1-10) he recounted how the soldiers guarding the tomb of Christ were bribed to give a false account that Jesus' body was stolen.
The cardinal said Jesus' Resurrection was "betrayed and denied" in exchange for a large sum of money.
Sadly, he lamented, this mode of acting continues in the world today.
"But this only leads to greed, corruption, manipulation and further despair. It inflicts death on others, especially on those who are already marginalized," Tagle said.
Still, he concluded the Holy Week with a message of hope wherein he led an Easter Vigil service at the Manila Cathedral on Saturday evening.
The cardinal entered the silent and darkened cathedral with a candle guiding him at the start of the vigil.
At the singing of the Gloria, the lights inside the church were switched on in a symbolic show of light after the darkness of Good Friday, which recalls Jesus' death.
Around 2,000 people attended the Easter vigil presided over by Cardinal Luis Antonio Tagle at the Manila Cathedral, April 15, 2017. ROY LAGARDE
"This Easter we declare once again: no amount of money or power or honor could make us deny that Jesus is Risen and that He is our hope!" he said.
According to him, the message of Easter is first communicated by the empty tomb.
But the tomb, he added, became "the space for divine illumination and for angels proclaiming the good news of the Resurrection".
"The tomb is not empty after all. It is now the space of God to spread light and life. It is the space where the women received a mission to tell the disciples that the victory over evil and death had been won by Jesus."
"The Resurrection is about the 'spaces' God offers to us to live our mission," said Tagle.
Ordinary daily life, he said, offers many such spaces from our homes and other places to the use of modern technology such cellphones and the social media, as well as in our minds, emotions and consciences.
"Let the Risen Jesus empty them of death and fill them with light, love and mission. Only then can we be joyful and hopeful bearers of hope rather than servants of gloom and despair," he said. CBCPNews