Cardinal Maeda prays for stronger PH-Japan ties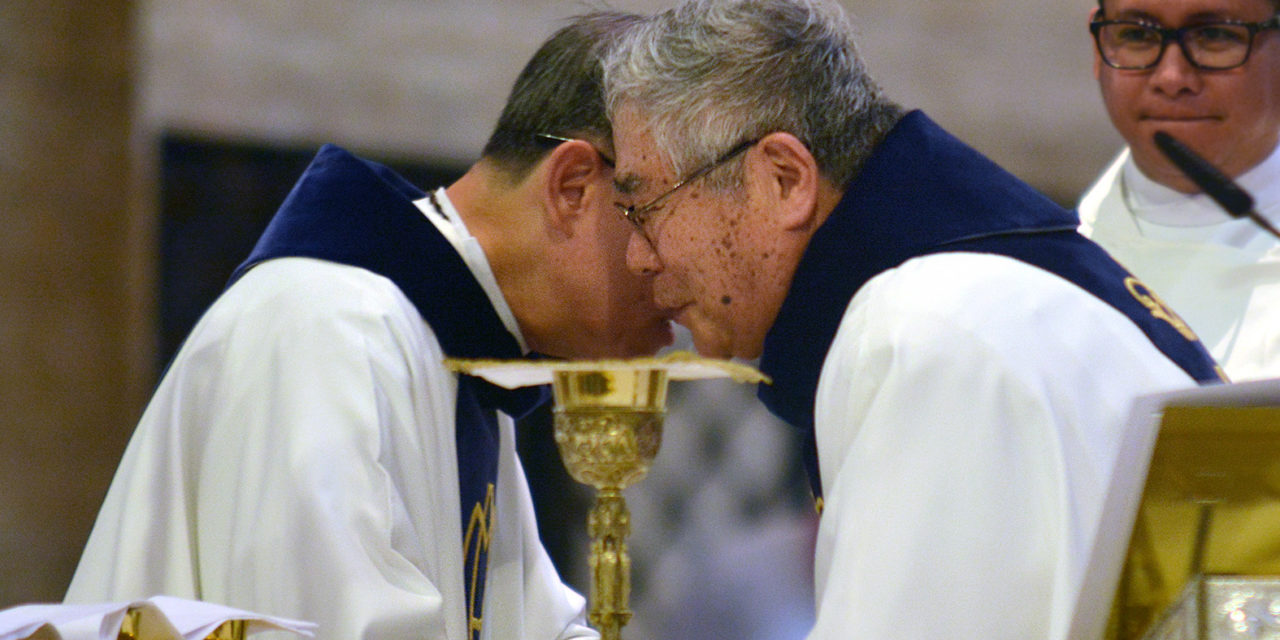 "PEACE BE WITH YOU". Papal legate Cardinal Thomas Aquinas Manyo Maeda of Osaka embraces Cardinal Luis Antonio Tagle of Manila during Mass to mark the 60th anniversary of the post war Manila Cathedral on Dec. 8, the Solemnity of the Immaculate Conception of the Virgin Mary. ROY LAGARDE
Japan's leading Catholic leader led the 60th anniversary celebration of the postwar Manila Cathedral and hoped for "stronger ties" between his country and the Philippines.
As he entered the cathedral, Cardinal Thomas Aquinas Manyo Maeda of Osaka kissed a crucifix and kneeled in silent prayer with his head bowed and hand clasped.
For the cathedral authorities, Maeda's presence as papal legate signifies the "reconciliation and peace" between the two nations once torn apart by war.
In his homily during Mass to also mark the Solemnity of the Immaculate Conception, the Asia's newest cardinal called for healing of the lingering wounds that the war had created.
"The most important thing is the Gospel of the Lord bringing us forgiveness and reconciliation with one another," Maeda said.
"I hope and pray that Filipinos and the Japanese would further strengthen our ties and faith in the Lord," he said.
Cardinal Maeda is widely known for his involvement in the peace movement in Hiroshima.
Growing up in Nagasaki, he saw the scars of war. In fact, his mother was among those who suffered the aftereffects of radiation from the atomic bomb explosion in Nagasaki on Aug. 9, 1945.
"The cry for peace screams out from the cardinal's veins," said Cardinal Luis Antonio Tagle of Manila.
For Tagle, the Manila Cathedral is a testament to the power of peace over violence.
"We will always rise again after every storm, earthquake, fire and war because we believe in peace," he said.
Also present during the celebration were Papal nuncio Archbishop Gabriele Caccia and Cardinal Gaudencio Rosales.
Cardinal Maeda will be in Manila until the morning of Dec. 10.
He will also visit the Chapel of the Pamantasan ng Lungsod ng Maynila, San Carlos Seminary, Sto. Domingo Church, and the University of Santo Tomas.
Another activity to culminate the year-long celebrations will be held at 5pm on Monday— the Solemn Dedication of the Altar of the cathedral.
One feature of the celebration will be the veneration of the altars of the eight side chapels of the cathedral which were all consecrated in 1958 by bishops from different parts of the country.
It is interesting to note that two Filipino prelates who are on their way to sainthood were present during the consecration rites – Archbishop Teofilo Camomot and Bishop Alfredo Ma. Obviar who consecrated the altars of the Pius X Chapel and the Our Lady of the Pillar Chapel respectively.
"This is a great time for many of us to come together in our Mother Church, as we dedicate the table where, as one people of God, we offer our sacrifices and our prayers," said Fr. Reggie Malicdem, rector of the Manila Cathedral.