CBCP Commission awards outstanding OFW children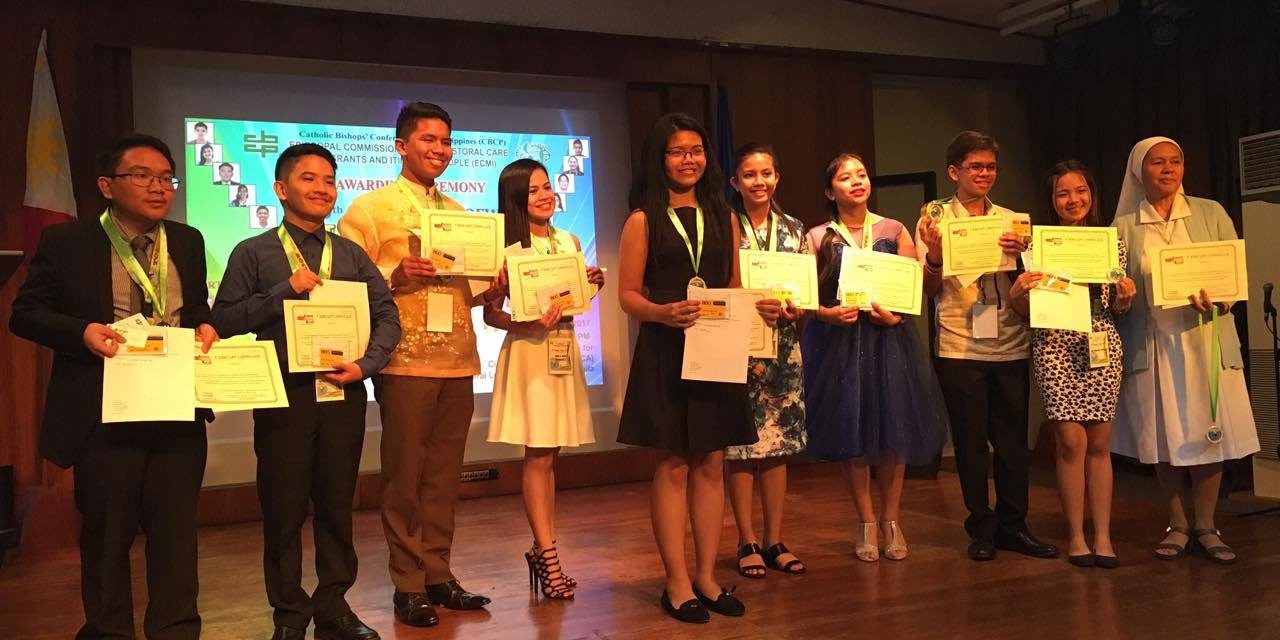 9th Gawad Anak OFW: Ten Outstanding Sons and Daughters of OFWs Student Achievers' (TOSDOSA) High school level. RON REGINO
MANILA– In support and assistance to Filipino migrant family members, the 9th Gawad Anak OFW: Ten Outstanding Sons and Daughters of OFWs Student Achievers' (TOSDOSA) awarding ceremony was held at the National Commission on Culture and the Arts (NCAA) in Intramuros, on March 17.
The annual 'GawadAnak OFW' organized by the Episcopal Commission for the Pastoral Care of Migrants and Itinerant People (ECMI) acknowledged 10 skilled and outstanding students from various elementary schools and 22 for the high school level nationwide.
The Executive Secretary of CBCP-ECMI, Rev. Fr. Restituto Ogsimer, emphasized the importance of the annual event saying this initiative can break the negative effects of children having OFW parents, and can produce positive results.
"We take seriously the gravity of this annual celebration because this is the only avenue where we can recognize the efforts, sacrifices and achievements of the students," Fr. Ogsimer noted.
"It has been proven that every now and then, when OFW children are properly guided and there is a support system, they can excel other than be a nuisance," he added.
Gift for the OFW Parents
Kiana Carlyn Silang from Our Lady of Caysasay Academy, Batangas won the first place in the elementary level while Aisha Cruz Said from Pilar College of Zamboanga City, garnered the top award for the high school category.
Both expressed their gratitude for their parents.
"I thank all who support us all the way, thank you for appreciating our efforts, because we are not only doing this for ourselves, we are doing this to thank our parents' hard work," Aisha Said expressed in her closing message.
"This is a very great avenue for us to be appreciated and recognized because even us the sons and daughters of OFWs struggle a lot, but we know it's our parents who are struggling the most,"she added.
The 10th 'GawadAnak OFW: TOSDOSA' that will be held next year will serve as a reunion for all awardees since the beginning, and will be an opportunity to feature the success stories of the awardees. CBCPNews