Churches need good sound systems, says veteran broadcaster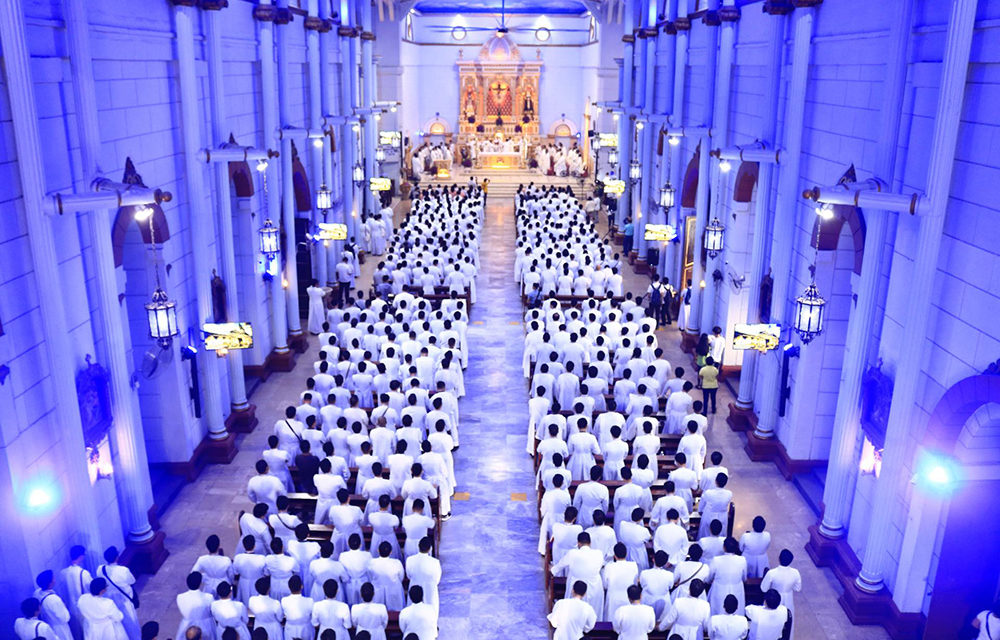 Theology seminarians attend the opening Mass of this year's "Kapatiran" at the St. Augustine Parish Church in Baliwag, Bulacan, Feb. 10, 2018. EUGENE PARAYAOAN
BALIUAG, Bulacan — Some parish churches suffer from poor acoustics and it doesn't have to be that way, said a veteran broadcaster.
Speaking at a gathering of seminarians in BALIUAG town on Saturday, GMA news anchor Jessica Soho said that proclaiming the Gospel requires a practical consideration: making sure people hear it clearly.
"Even if a priest delivers a good homily [but the sound system is bad], it will be difficult understand," she said.
Soho was among the resource speakers during a conference for this year's "Kapatiran", an annual gathering of theology seminarians from across the country.
Short and simple
Asked about her wish for future priests, she said, among others, short yet good homilies. "Keep it short and simple," said Soho.
She also hopes that priests become aware of the common people's plight.
"You should always get to know the pulse of the community," Soho added. "You should not be detached from the people".
'A love affair with Jesus'
Meanwhile, lay Catholic evangelist and bestselling author Bo Sanchez reminded seminarians that "priesthood is not a job" but a vocation that must be rooted in the experience of a loving God.
"If it is only a job for you, then don't become a priest," he said. "It must come from a love affair with this person, with Jesus."
Sanchez then challenged everyone to nourish and cultivate an intimate relationship with Jesus.
"I want you to be so rooted in your intimate personal relationship with Jesus, that you're full of love with Jesus. This should be reason why you want to be a priest… because there's God who loves you," he stressed.
The Catholic lay preacher further admonished the seminarians to make sure they connect with the people when they preach.
"Sometimes we tend to impress the people and sometimes they don't understand [what we are talking about]," explained Sanchez.
He also advised them not "to use their own vocabulary" when they preach but "the people's language" so they can be better understood.
Hosted by the Immaculate Conception Major Seminary of the Diocese of Malolos, this year's gathering saw more than 500 seminarians assembled for a day of "learning and fellowship". CBCPNews
DONATE TO CBCP NEWS
CBCPNews is a church-based news agency operated by the Media Office of the Catholic Bishops' Conference of the Philippines.  This apostolate aims at helping the work of the new evangelization through the news media.  This is non-commercial and non-profit.  That being the case, it totally depends on generosity of its readers and supporters.
Should you wish to donate kindly press the donate button.  Thank you.