Condemning killings is not enough— Cardinal Tagle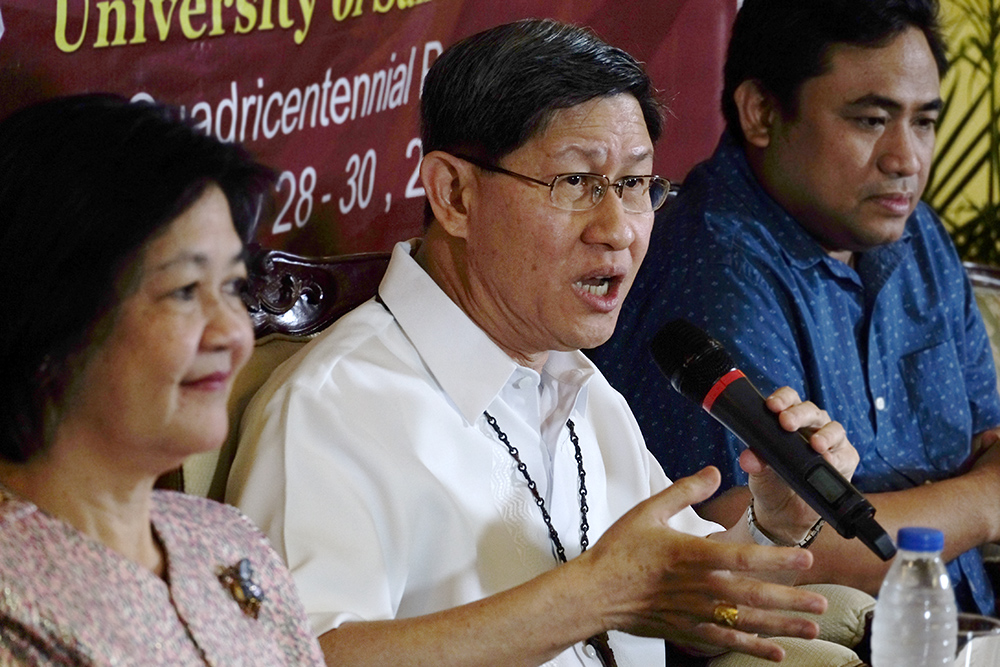 Cardinal Luis Antonio Tagle speaks during a press conference on the upcoming Philippine Conference on New Evangelization in Manila, July 4, 2017. ROY LAGARDE 
The head of Manila's Roman Catholic Church said the flurry of attacks against the spate of drug-related killings has to stop and not just with mere words.
Cardinal Luis Antonio Tagle said that to save more lives and address social problems like drug addiction, condemnation alone is not enough.
He said the Church must be more "proactive" in dealing with the problem by coming up with concrete actions to protect life.
"As we say do not kill, let us promote life and save lives," Tagle said. "It's not enough to just say 'this is forbidden' or 'this is bad,' but instead act together," he said.
Reacting on the seeming lack of public outcry against summary executions, the cardinal said that many Filipinos still believe that life is sacred and killing is wrong.
The cardinal said he interviewed some people on the issue and found out that they seem to accept killings "out of despair".
"You know, their answer is not about opposing the teachings. They really know the teachings. But it seems to be coming from a kind of helplessness," said Tagle.
"And I pity them because there comes a conflict within. A part of them says life is sacred, it should not really be destroyed. But part of them also feels they've been to disadvantaged."
"The institution, the system, is not moving so for them, (killing) is maybe the solution. So I believe that many people still respect life," he added.
The Manila archbishop also said that the issue on drug-related killings will certainly be discussed during the upcoming 4th Philippine Conference on New Evangelization (PCNE).
The July 28 to 30 event at the University of Santo Tomas would feature various topics including social justice, family, youth, environment, new media, and interreligious dialogue and education.
"It's one issue that will surely come out because we have the social justice track in the PCNE. Maybe what the PCNE can help is how to strengthen the faith and not to lose hope," he said.
"So there maybe some new approaches or new ways to save lives," Tagle said. CBCPNews