Group marks 'Year of the Parish' with lecture series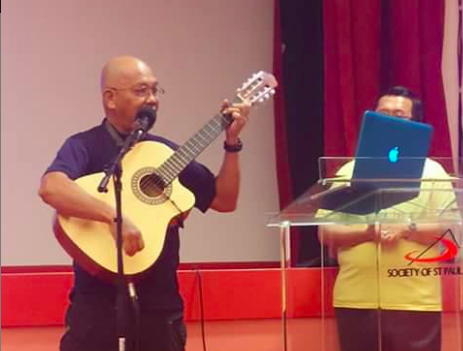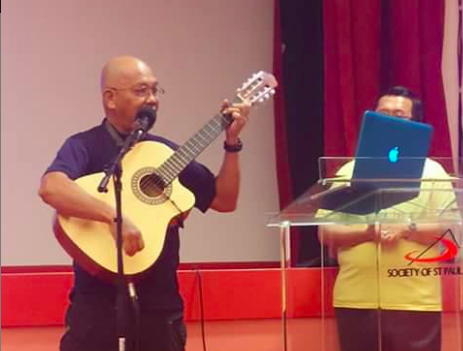 Fr. Amado Picardal gives a talk on Basic Ecclesial Communities at the St. Paul Center for Biblical Theology, Makati, July 29, 2017 OFELIA VIRAY
MANILA – The St. Paul's Bible Mission Society celebrates the Year of the Parish by deepening their understanding of communion and Christian life through a monthly Bible lecture series.
Kicking off on March 25, Solemnity of the Annunciation, the Communio Bible Lecture Series carried the theme "Communio: A Biblico-Catechetical Encounter Around the Table of the Word During the Year of the Parish."
According to Hansel Magpayo, head facilitator of the Communio, the lectures dwells on liturgical and Biblical themes that help parishioners animate their parish involvement.
Dynamics of faith
"So if one regularly comes to the lecture series, one understands some of the dynamics of our Christian faith expressions in the context of the parish, the focus of our celebrations today as a Filipino Church" said Magpayo.
The monthy Bible lecture series centered on the "word-made flesh" and on understanding communities.
"The call to be a Church comes from God, and so we welcome everyone. Even in the liturgy of the mass, for example, one does not discriminate the participants. Worshippers, sinners and saints alike, are called to holiness," said Novaliches Bishop Emeritus Teodoro Bacani, during the first run, which focused on the parish as the "womb of communities."
Meanwhile, Fr. Antonio Pernia, SVD, former superior general of the Society of Divine Word, made participants realize that the Church's mission is to live out Jesus' mission. He also pointed out that the reality of parishes is basically multi-culture and poor.
Going back to the Bible
Around 70 beneficiaries of the Sisters of Charity in Tayuman, Tondo made the said seminar their recollection guide before the celebration of Jesus' Passion and death during Holy Week 2017.
The latest lecture of Fr. Amado Picardal CSsR, executive secretary of Episcopal Commission on Basic Ecclesial Community, emphasized that merely liturgical and spiritual activities do not constitute Basic Ecclesial Communities (BECs).
According to him, "Basic Ecclesial Communities happen when believers, sharing the Word of God and the Bread of the Eucharist in their small neighboring groups, become aware of the needs of and the duties to their neighbours and thus, engage in transformative activities that answer to the total need of the believers, be it economic, social, political, environmental, etc."
According to Magpayo, the St. Paul Bible Ministry, "…animate(s) and facilitate(s) the parishioners to always go back to the Word of God even in their busy activities in the parish, for as Verbum Domini says, all our pastoral undertakings must be fruits of our encounter with the Word."
To date, the lecture of Fr. Paolo Asprer on "The Church as a Community of Disciples (Historical Perspective)" marks halfway of the annual Biblico-catechetical seminar series, which ends Dec. 2.
To know more about St. Paul's Apostolate, interested parties may visit www.stpauls.ph or www.ssp.ph Angel Memorando/CBCPNews