Historical marker unveiled at N. Samar church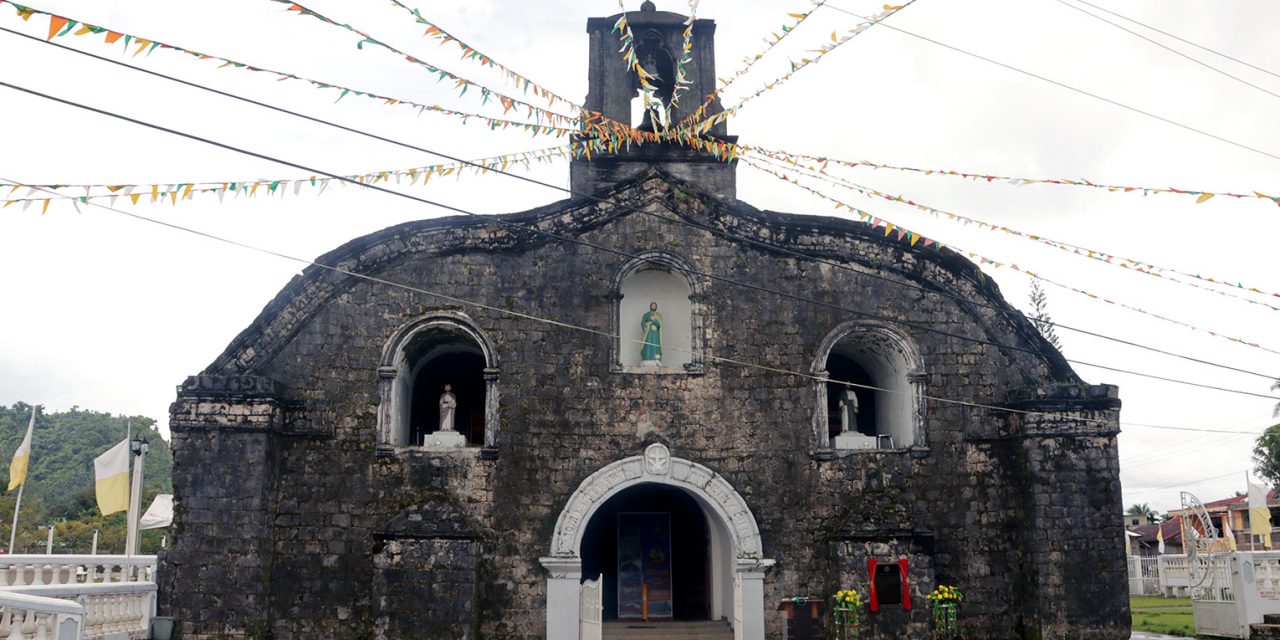 Government and church officials lead the unveiling of the St. Joseph the Worker Parish Church's historical marker in Catubig, Northern Samar on April 15, 2021. PHOTO BY CARL SANCHEZ BORDEOS
Northern Samar on Thursday unveiled the historical marker recognizing the role of the Catubig Church in the province's heritage.
The marker lets everyone who passes by the St. Joseph the Worker Parish Church know they are passing by a piece of the province's history.
The unveiling was led by officials including Board Member Neil Hernandez, Mayor Galahad Vicencio, Vice Mayor Dexter Galit, provincial tourism officer Ma. Josette Doctor.
"This recognized the parish church of Catubig as a heritage church," said Galit, who is one of those who led the efforts to recognize the church as a historical site.
Msgr. Gaspar Balerite, the Vicar General and Church Heritage Director of Catarman diocese, was also in attendance on behalf of Bishop Emmanuel Trance.
St. Joseph the Worker Parish Church in Catubig, Northern Samar. PHOTO BY CARL SANCHEZ BORDEOS
Prior to the ceremony, a Mass was held in the church with parish priest Fr. Cyril Paredes as the main celebrant.
Files at Christ the King College, a Franciscan school in Calbayog City, stated that it was Fr. Vicente Zamora with the help of his parishioners at that time who "built a beautiful church of stone with a galvanized iron roof" during the years of 1885 – 1888.
This was followed with the construction of a belfry or steeple in 1892 by Fr. Antonio Ibanez.
Zamora and Ibanez were among the many Spanish Franciscans assigned in Catubig after the Jesuit missionaries turned-over the parish to the Franciscans in 1768.
Spanish martyrs Felix Gomez-Pinto (1870-1936) and Angel Ranera (1877-1936), who were beatified by Pope Emeritus Benedict XVI in 2007, were assigned in Catubig and other parishes of Samar.
Today, the Catubig Church remains to be one of the few well-preserved centuries-old stone churches built by Spanish missionaries in the diocese.
It is also one of the more than 500 "Jubilee Churches" designated by Pope Francis in celebration of the 500 Years of Christianity in the Philippines.
The parish church will open its Holy Door on April 24.

DONATE TO CBCP NEWS
CBCPNews is a church-based news agency operated by the Media Office of the Catholic Bishops' Conference of the Philippines.  This apostolate aims at helping the work of the new evangelization through the news media.  This is non-commercial and non-profit.  That being the case, it totally depends on generosity of its readers and supporters.
Should you wish to donate kindly press the donate button.  Thank you.