Letter to Priests on the 2019 Elections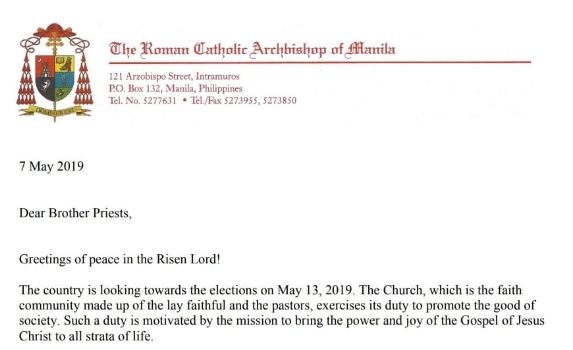 May 7, 2019
Dear Brother Priests,
Greetings of peace in the Risen Lord!
The country is looking towards the elections on May 13, 2019. The Church, which is the faith community made up of the lay faithful and the pastors, exercises its duty to promote the good of society. Such a duty is motivated by the mission to bring the power and joy of the Gospel of Jesus Christ to all strata of life.
The CBCP has encouraged organizations of the lay faithful to assume their rightful role in the evangelization of the political world, especially through an informed, prayerful and discerned choice of candidates. We want to share with you the process of discernment undergone by the People's Choice Movement, a purely lay group organized by lay Christian leaders. The criteria that guided them are explained in the two attached letters of Dr. Julieta Wasan, President of the Sangguniang Laiko ng Pilipinas and Bishop Broderick Pabillo, Chairman of the CBCP Commission on the Laity. I urge you to share this initiative of the lay faithful with the lay groups, youth organizations, circles of discernment in your parish as a guide to their own discernment.
I am also encouraging you to include the integrity and peaceful conduct of the elections in the daily masses leading up to May 13. Depending on the context of your parish, please organize prayer moments like a Holy Hour, rosaries, a triduum and the like. Let us also remind our communities that after the elections, we should continue our mission of participating in the renewal of society based on the Gospel of Jesus Christ.
We entrust our people and the coming elections to the powerful prayer of our Blessed Mother, under her title Our Lady of Fatima, on whose feast the elections occur.
Sincerely yours in Christ,
LUIS ANTONIO G. CARDINAL TAGLE
Archbishop of Manila