Malolos Diocese holds Holy Week liturgy confab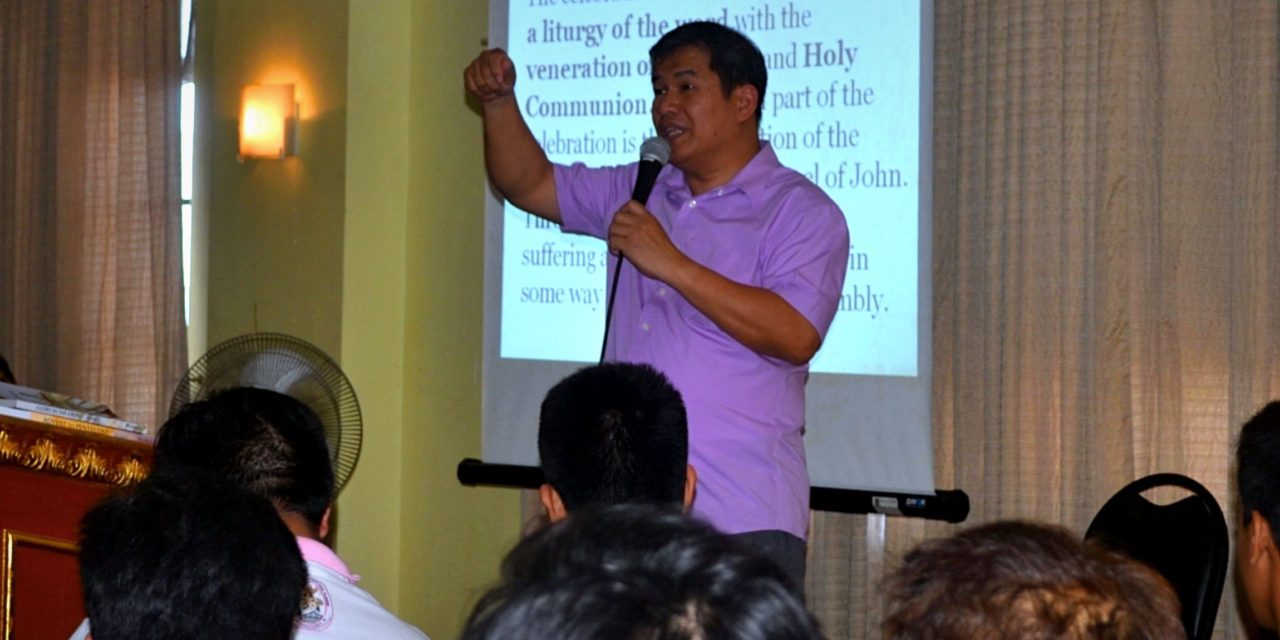 Malolos Commission on Liturgy head Fr. Francis Carson discusses the Holy Triduum during a Holy Week liturgy seminar for the laity. RAINIER POLICARPIO
By Myraine Carluen Policarpio
Hundreds of lay servant leaders across the diocese of Malolos gathered at the Immaculate Conception Hall of the Diocesan Pastoral Center for their annual seminar on the Holy Week liturgy, Saturday, Feb. 24.
Organized by the Diocesan Commission on Liturgy, the seminar aims to provide parish lay leaders a review of how various Holy Week rituals and celebrations should be conducted.
"The roles that these individuals are doing can affect the faithful," said Fr. Francis Carson, chairman of the
Diocesan Commission on Liturgy, in an interview with CBCP News. "If they are aware and knowledgeable regarding the proper preparations and manner of performing liturgical celebrations for the Holy Week, they may also be able to lead others and explain to them the meanings of such."
He also explained matters about the summit of the liturgical year, the Holy Triduum, the three-day celebration of the passion, death, burial, and resurrection of Jesus.
"This Holy Week season is not merely a demonstration; not only a tradition that we inherited," said the priest.
"These things make us experience the essence of salvation that our Lord bestowed upon us through his passion, death and resurrection."
A part of the seminar, given by Msgr. Andres Valera, also focused on various types of popular religiosity such as procession of images, "pabasa", "Via Crucis", and Stations of the Cross among others.
Meanwhile, Fr. Allan Antonio, chairman of the Diocesan Committee on Liturgical Music, shared about the proper music that should be used for the liturgy. CBCPNews