Pope Francis says more action coming in fight against Vatican corruption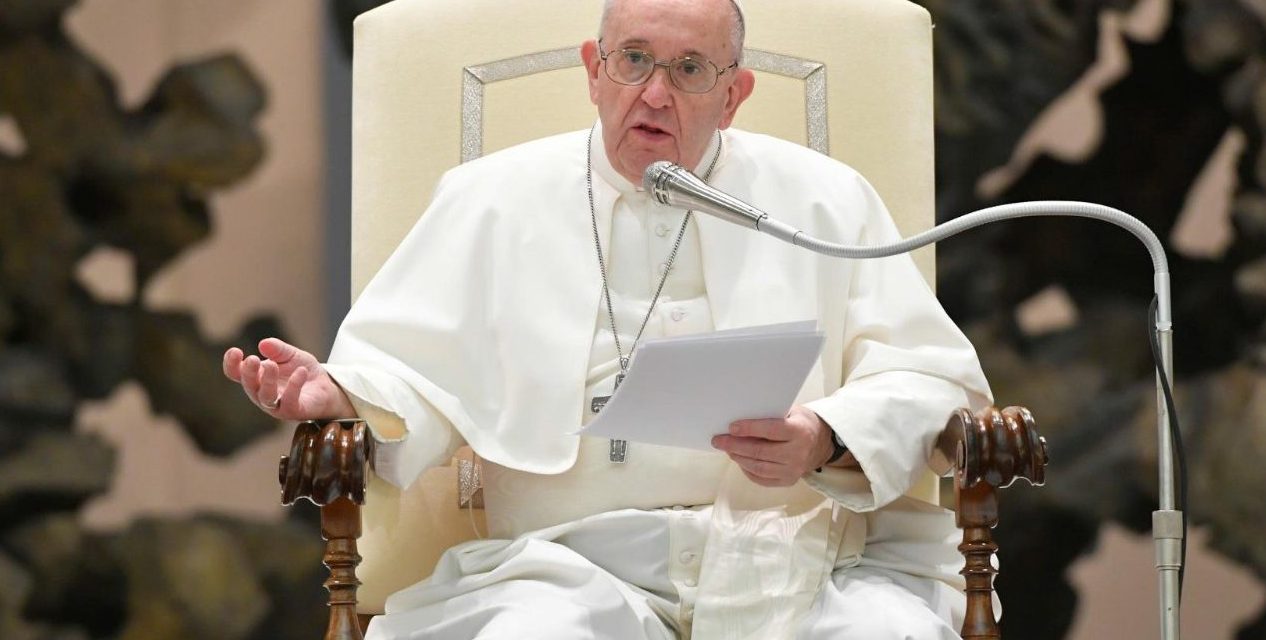 Pope Francis at General Audience in the Vatican on Oct. 28, 2020. VATICAN MEDIA
ROME— Pope Francis has said more changes are on the horizon as the Vatican continues to combat financial corruption inside its walls, but he is cautious about success.
Speaking to Italian news agency AdnKronos this week, Pope Francis said corruption is a deep, recurrent problem in the history of the Church, which he is trying to counter with "small, but concrete steps."
"Unfortunately, corruption is a cyclical story, it repeats itself, then someone comes along to clean and tidy up, but then it starts again waiting for someone else to come and put an end to this degeneration," he said in the interview, published Oct. 30.
"I know I have to do it, I was called to do it, then the Lord will say if I did well or if I did wrong. Honestly, I'm not very optimistic," he smiled.
Pope Francis said "there are no particular strategies" to how the Vatican is fighting corruption. "The tactic is banal, simple, to go forward and to not stop. You have to take small but concrete steps."
He pointed to changes made over the last five years, stating that more changes will be made "very soon."
"We went to dig into finances, we have new leaders at the IOR, in short, I had to change many things and many will change very soon," he said.
The interview came as the Vatican City tribunal is reportedly investigating various financial scandals and allegations connected to the former curial official Cardinal Angelo Becciu.
Becciu's lawyers deny he has been contacted by Vatican authorities.
On Sept. 24, Becciu was asked by Pope Francis to resign from his Vatican job and from the rights of cardinals following reports alleging that he used millions of euros of Vatican charity funds in speculative and risky investments, including loans for projects owned and operated by Becciu's brothers.
Becciu, who was formerly number two at the Secretariat of State, has also been at the center of a scandal involving the controversial purchase of a London building. He was also reportedly behind the hiring and paying of an Italian woman accused of misusing Vatican funds intended for humanitarian work for extravagant personal purchases.
Becciu has been accused of using Cecilia Marogna, a self-styled security consultant, to build "off-books" intelligence networks.
In the Oct. 30 interview, Pope Francis responded to a question about recent criticism he has received, including the renewal of the Vatican-China deal and his apparent approval of the legalization of same-sex civil unions in a recently-released documentary.
The pope said he wouldn't be telling the truth if he said criticism does not bother him.
Nobody likes criticism given in bad faith, he added. "With equal conviction, however, I say that criticism can be constructive, and then I take it all because criticism leads me to examine myself, to make an examination of conscience, to ask myself if I was wrong, where and why I was wrong, if I did well, if I did wrong, if I could do better."
DONATE TO CBCP NEWS
CBCPNews is a church-based news agency operated by the Media Office of the Catholic Bishops' Conference of the Philippines.  This apostolate aims at helping the work of the new evangelization through the news media.  This is non-commercial and non-profit.  That being the case, it totally depends on generosity of its readers and supporters.
Should you wish to donate kindly press the donate button.  Thank you.