Pope names administrator of Manila archdiocese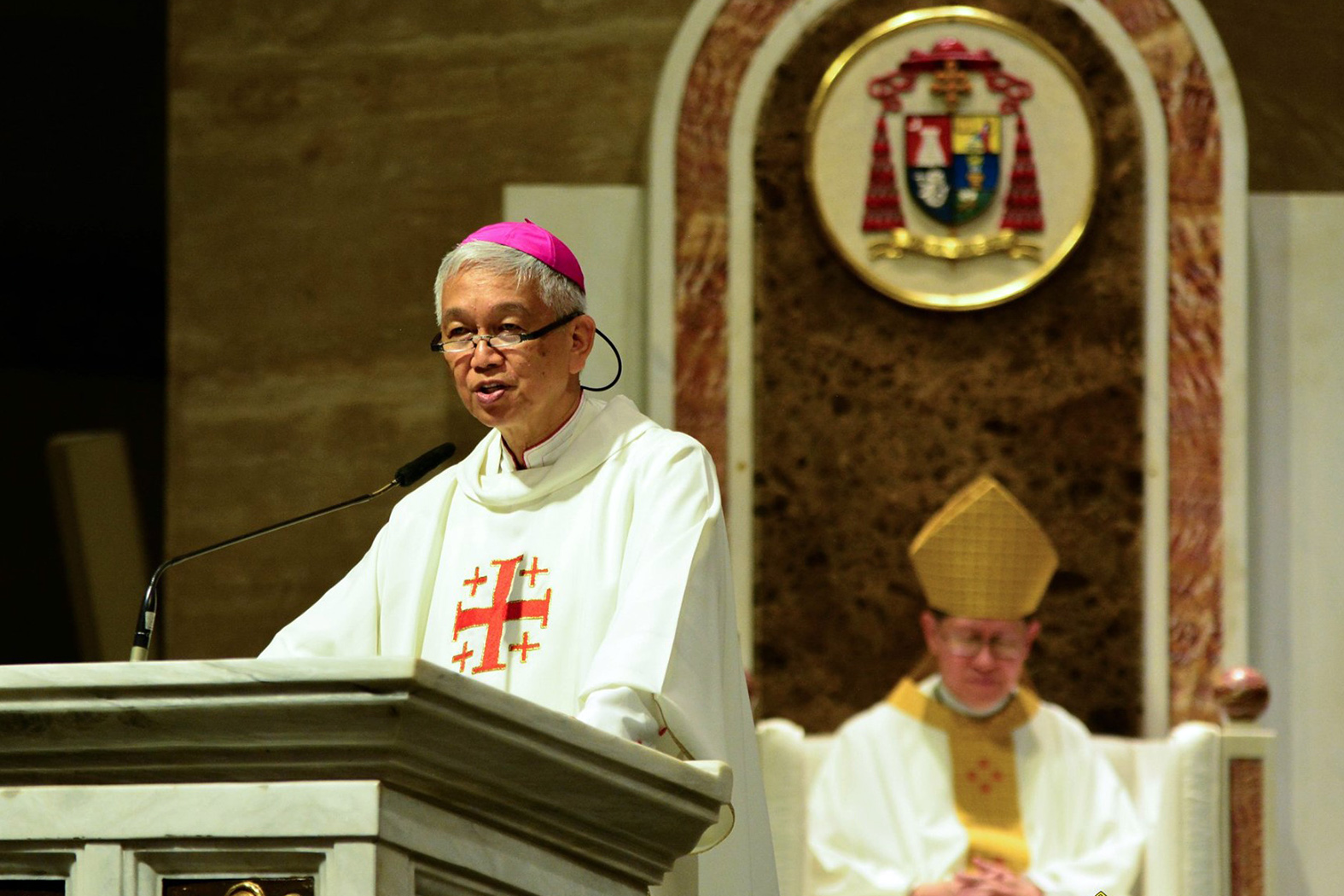 Bishop Broderick Pabillo, the auxiliary of Manila, speaks during the Thanksgiving Mass for the ministry of Cardinal Luis Antonio Tagle at the Manila Cathedral on Jan. 27. ERIC PAUL GUANLAO/RCAM-AOC
Pope Francis has named a caretaker of the Archdiocese of Manila until the appointment of Cardinal Luis Antonio Tagle's successor.
Bishop Broderick Pabillo is taking the role as apostolic administrator in an appointment announced in the Vatican on Monday.
The appointment came a day after Cardinal Tagle left Manila to assume his post as Prefect of the Congregation for the Evangelization of Peoples in the Vatican.
The Vatican usually appoints an apostolic administrator to temporarily head a diocese when it becomes vacant, especially if special circumstances surround the ecclesial territory.
Pabillo has been serving as auxiliary bishop of Manila since 2006, or since the term of now retired Cardinal Gaudencio Rosales.
Born in Negros Occidental, he was ordained a priest of Salesians of Saint John Bosco on Dec. 8, 1982.
A year after, Pabillo studied in Rome where he obtained his Licentiate Degree in Sacred Scripture at the Pontificum Institutum Biblicum in Rome in 1986.
He held two major positions at the Salesian Theologate Seminary in Parañaque City — as Oeconomus and Professor from 1988 to 1996, and as seminary Rector from 1996 to 1999.
In 1999, Pabillo was incardinated to the Apostolic Vicariate of Puerto Princesa, where he served until he became a bishop.
In the Catholic Bishops' Conference of the Philippines, he currently heads the Commission on the Laity.
He also chaired the bishops' Commission on Social Action, Justice and Peace and the Commission on Biblical Apostolate.
In Rome, Cardinal Tagle will have his first public appearance during the launching of a book published by Marcianum Press at the Pontifical Urban University on Feb. 25.
He will be joined by Cardinal Pietro Parolin, the Vatican Secretary of State, and Cardinal Fernando Filoni, who recently assumed the post of Grand Master of the Order of the Holy Sepulcher.
Filoni, who served as Apostolic Nuncio to the Philippines from 2006 to 2007, is also Tagle's predecessor at the Propaganda Fide.