Pope's cousin, a Salesian missionary, to join papal entourage in Thailand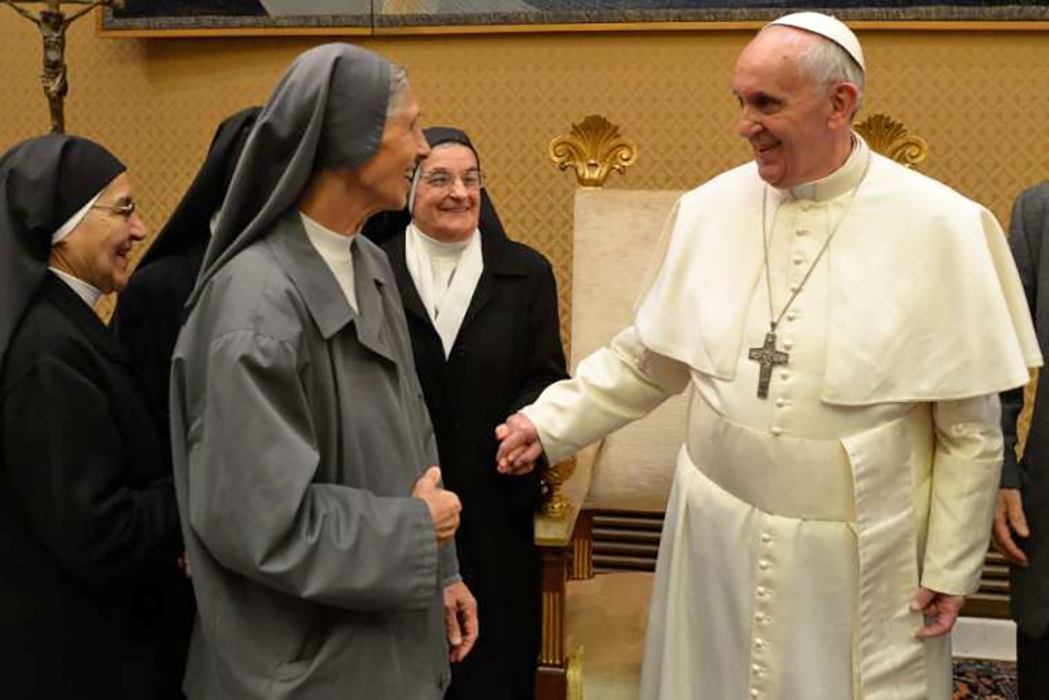 Pope Francis greets his second cousin, Sister Ana Rosa Sivori, in 2013. VATICAN MEDIA
BANGKOK, Thailand— Salesian Sister Ana Rosa Sivori, Pope Francis' second cousin who has been a missionary in Thailand for over 50 years, will be in attendance during papal meetings in the country later this month.
While in Bangkok Nov. 20-23, Sivori, 77, will be a part of the papal entourage, following the pope to all his events and encounters, according to Reuters.
Pope Francis and Sivori, who grew up in Argentina together, are related through their grandfathers, who were brothers.
Since Pope Francis' election in 2013, whenever Sivori visits Argentina, she first makes a stop in Rome to see him. She said she has grown closer to him in the last few years, Reuters reports.
In an interview with Italian magazine Il Mio Papa, Sivori said she is happy to be able to greet her second cousin, but she is "especially happy for the small Catholic community here and for all the Thai people. It is a great blessing and a special gift for Thailand."
"Although Catholics here are a minority, thanks be to God there is a great religious tolerance that allows peaceful coexistence marked by simplicity and brotherhood," she added.
Sivori joined the Salesian Sisters of Don Bosco, also called the Daughters of Mary Help of Christians, at the age of 23. She was sent soon after, in 1966, to be a missionary in Thailand, where she has been living ever since.
She is currently vice principal of St. Mary's School in the northeastern part of Thailand, over 350 miles from the capital city of Bangkok.
On the pope's schedule in Bangkok is a meeting with King Maha Vajiralongkorn at the Amphorn Royal Palace.
The pope will meet with Christian and other religious leaders, and also with the Supreme Patriarch of Thailand, who is the leader of the order of Buddhist monks in the country.
He will also celebrate Mass in the National Stadium and in the Cathedral of the Assumption.
Sivori told Reuters that when she and Francis talk, "we feel like brother and sister. For me, of course I know that he's the Pope … but we talk simply."
"When I meet him, I'll call him by his name, Jorge. Pope Francis just came after," she said. "I'm proud of him."
Francis' visit to Thailand is in commemoration of the 350th anniversary of the Vatican Mission to Siam in 1669.
The small Catholic community in Thailand, less than 0.5% of the mostly Buddhist population, has been celebrating the anniversary throughout 2019.
After Thailand, Pope Francis will travel to Japan for three days.