PPCRV elects new chair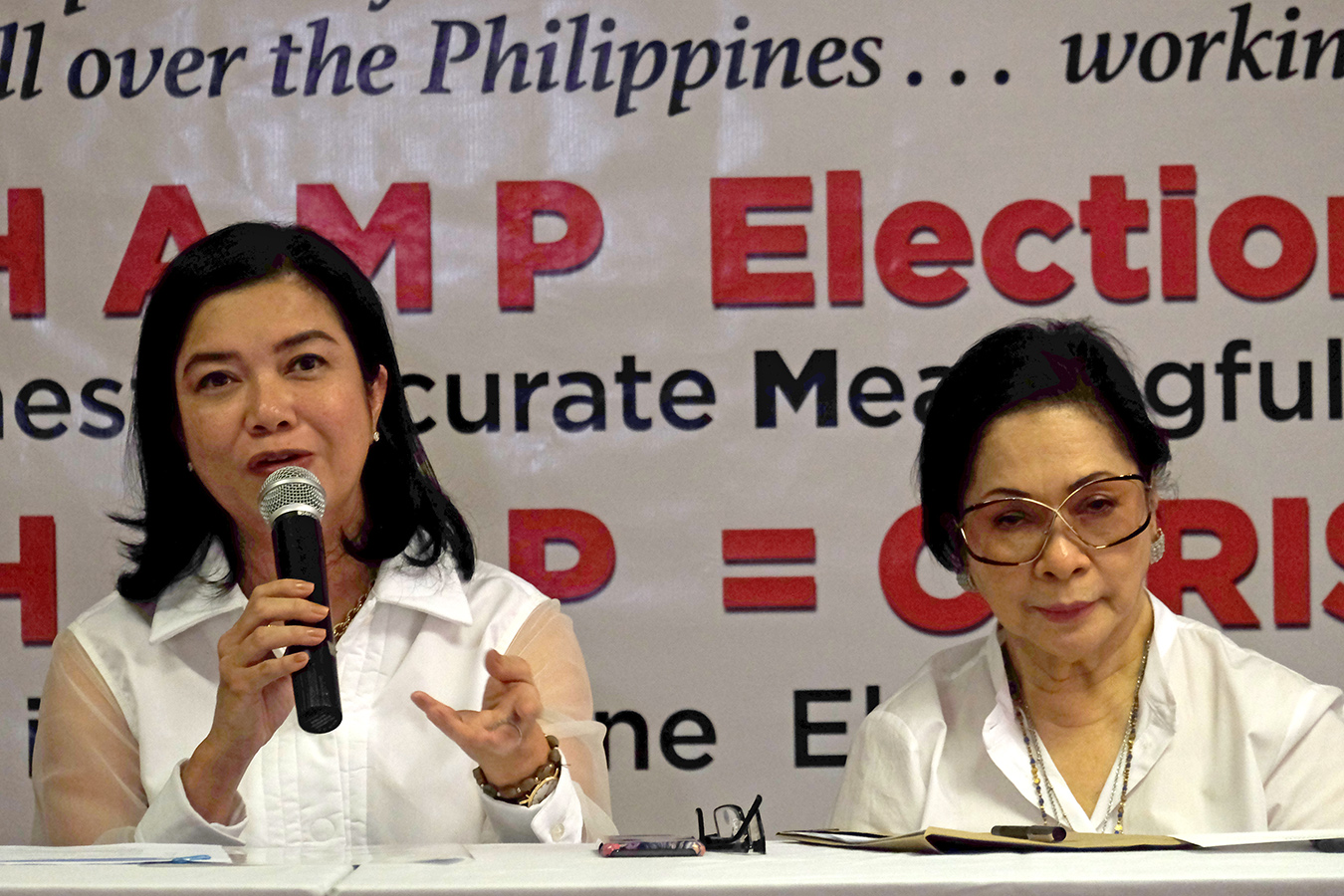 Myla Villanueva, Newly elected national chairperson of the Parish Pastoral Council for Responsible Voting, and PPCRV chairperson emeritus Henrietta de Villa face the media at Pope Pius XII Catholic Center in Manila Nov 16. CBCP NEWS
A leading figure in the Philippines' digital revolution will head of the Catholic Church-backed election watchdog.
The board of the Parish Pastoral Council for Responsible Voting elected Myla Villanueva to the top post, with only around five months to go before the country's mid-term polls.
A pioneer in the local and global technology industry, her experience will be handy as PPCRV engages in the May 2019 automated elections.
Villanueva succeeded lawyer Rene Sarmiento, whose term was cut short for health reasons.
Currently the CEO of Micro-D International Inc., Villanueva will lead the directions of PPCRV until 2022.
PPCRV officials have a four-year tenure in office, or a total of eight to include the second term.
"Voters' education and sharing the importance of one good vote will be one of our long term goals," Villanueva said.
"In this age of social media, it's important that we reach our youth, teach them the value of their privilege to vote, and encourage them to participate in political citizenry," she said.
Villanueva is not new to PPCRV. She has been poll watcher volunteer of the group since her younger days.
But her direct involvement with the PPCRV started only in 2010 because she was concerned with the country's first ever automated elections. "I know because I'm in the technology," she said.
Since then, she was PPCRV's trustee until 2016 when she joined the Association of Southeast Asian Nations (Asean).
"Today, I will roll up my sleeves once again. I will travel the country, meet the incredible people who volunteer at the dioceses and listen what goals and dreams they have for the PPCRV," said Villanueva.
With over 30 years in the information and communication technology industry, Villanueva is a pioneer in Mobile Software, Cloud, Big Data Analytics and Security. She also founded the first broadband wireless company in the country.
The new PPCRV head has also served in international industry organizations including London-based GSMA, the world industry body of telecom operators.
At present, Villanueva is the Asia Pacific President for the Global Telecom Women's Network, a non-profit organization encouraging women to enter the fields of internet, technology and telecoms.
In 2003, she was Ernst and Young's first Woman Entrepreneur of the Year and was named among the Ten Outstanding Women in the Nation's Service, in the field of Science and Technology, in 2010.