Sea of black as thousands flock to slain priest's funeral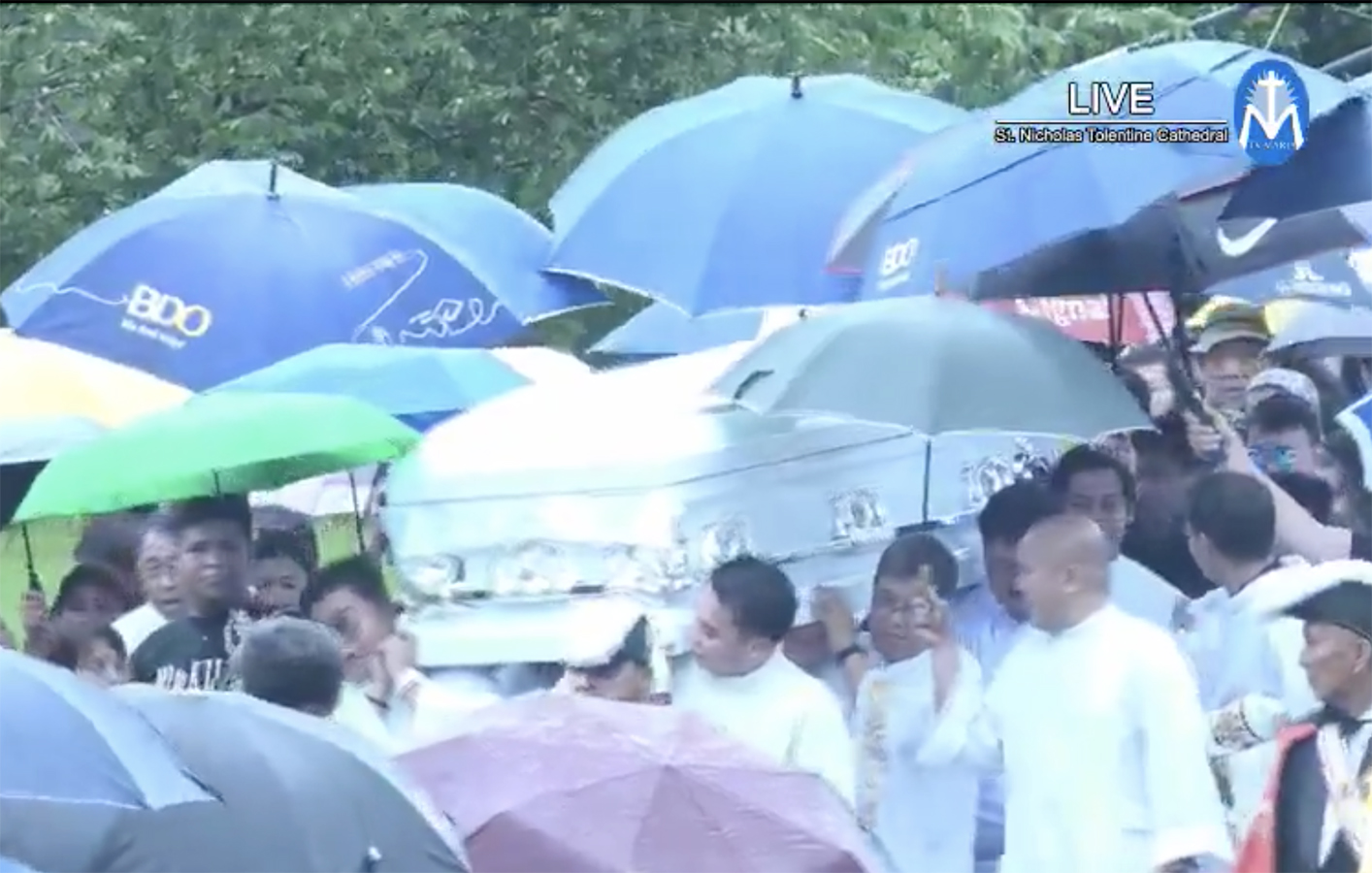 Priests carry the coffin of Fr. Richmond Nilo during a funeral procession towards the crypt of the St. Nicholas of Tolentine Cathedral in Cabanatuan City, June 15, 2018. SCREEN GRAB FROM TV MARIA
Thousands of black-clad mourners have crowded the city streets of Cabanatuan in Nueva Ecija for the funeral procession of slain Father Richmond Nilo.
Rains did not stop more than 10,000 people from joining the procession from the College of the Immaculate Conception (CIC) Chapel to the new St. Nicholas of Tolentine Cathedral to pay their last respects to the priest.
Many of those who lined up for the procession were from his hometown in San Antonio and his parishioners at the St. Vincent Ferrer Parish in Zaragoza town.
His funeral took place less than a week after he was gunned down while preparing for a Mass at the barangay chapel of Mayamot in Zaragoza on June 10.
"He (Nilo) helped us get back on our feet slowly. He gave a new hope to my family," said a tearful Anthony Velasco from Zaragoza.
Juliene Ocampo thanked the priest for his program to help her fellow deaf-mute students at the CIC where there Nilo served as president of six years.
"If not because of him, we will not be able to finish our education," she said.
Thousands of mourners attend the funeral procession of Fr. Richmond Nilo, who was shot dead on June 10. SCREEN GRAB FROM TV MARIA
Dozens of bishops and priests led by Papal nuncio Archbishop Gabriele Caccia attended the funeral Mass presided over by Bishop Sofronio Bancud of Cabanatuan.
In his homily, Bancud said that when temptation is great to respond to hate with hate, an authentic conversion of heart is necessary.
He said that Christians are called to respond to attacks with the works of God which are forgiveness, love and respect for other people even if they are indifferent.
"Whatever it is that we are facing today in our families and communities, let us respond with love," Bancud said.
The bishop added that the murder of Nilo only mirrors the many violence happening in the world today.
"But it should not deter us as disciples of the Lord. Rather, we always have to go back to the Good News," he said. "If you have been persecuted, know that Jesus Christ was persecuted first."
After the Mass, Nilo was laid to rest at the crypt of the cathedral.
Nilo was the third priest to be killed in the past six months after Fr. Mark Ventura of the Archdiocese of Tuguegarao and Fr. Marcelito Paez of the San Jose diocese.