To the depths and back: the priest who survived a burning car crash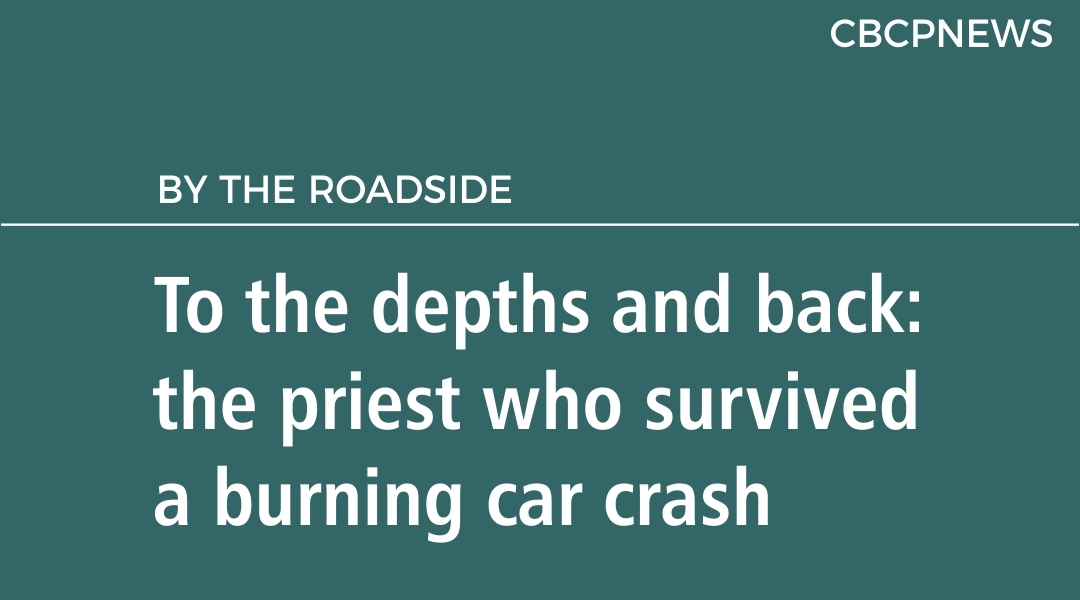 FR EDMEL R. is among the youngest priests of the Diocese of Borongan. But after a near fatal accident he went through last February 13, 2018, on the eve of Valentine's Day, he has shown a maturity not only of mind but also of faith well beyond his years. He will be the first to object to this characterization, I suppose; still, I do not believe I am the only one who has noticed.
Returning from a priests' assembly to a string of scheduled acts, he was in a hurry to reach his assignment, the Immaculate Conception of Our Lady Parish, Guiuan, Eastern Samar, when he slipped into an unintended doze while at the wheel, something that could have come from a lack of sleep or fatigue or both. In the instant that he came to, his car was swerving to the left lane and he instinctively turned the wheel to the right. To his horror, he realized he overdid his effort and before he could correct himself, he found himself headed to an electric post and, even as he was staring death in the face, he also found himself praying loudly and especially calling on the Blessed Virgin's name for help. By this time his car had also burst into flames, but for some reason he could not explain, he could not detach himself from his seat belt and thus could not flee from the vehicle. Mercifully, a man handed him a bolo which he would use to cut the belt and break himself free from the burning car. He ran to the waiting company of sympathetic mothers, daughters and curious onlookers till he was brought finally to the local hospital.
Unknown to him, another priest, Fr Moses C., the Moderator of their Team Ministry, was also on his way back to the parish. Having been contacted by the bishop about Fr Edmel's accident and told to not hurry too much as help had already come to Fr Edmel, still Fr Moses drove in the direction of his brother priest. He never made it. On that fateful, gloomy and rainy afternoon before Valentine's Day, a truck's rear smacked and pounded his service vehicle killing Fr Moses instantly. When he eventually heard of the tragedy, Fr. Edmel confessed to feeling like his own heart was breaking and bleeding for an older brother and a mentor.
Yet in the days and months that passed when he went through the harrowing process of recovery, he became a some kind of a local social media sensation updating fellow priests, friends, relatives and classmates on his latest condition or the latest procedure and treatment he was having, while also asking for prayers and offering his own prayers for anyone in need. As we have witnessed periodically through photos or visits, he suffered very serious burns especially on the left side of his body and legs, burns that, clearly even to onlookers, must have been extremely painful at one point or another. In all this he honestly has been sharing his hopes and doubts, his desolations and consolations, his perplexities and humor. He has opened some of us priests' and lay people's eyes not only to the reality of suffering but also to the need to bravely move on with life while embracing it. What matters is "following Him" and rediscovering how suffering is a way to do just that, even when life seems to have run out of "roads" or even "legs" to walk on by.
Indeed the Year of the Clergy and Consecrated Persons has been hardly uneventful for the Borongan Clergy. Nor has it been uneventful for the Church all over the Philippines. The recent killings of Fr Marcelito Paez of the Diocese of San Jose and of Fr Mark Ventura of the Archdiocese of Tuguegarao are jolting events. Both crimes are still unsolved and, although it hardly came as a surprise, the president's remarks linking Fr Ventura's death to his alleged affairs, not only added insult to the injury weighing heavily on the memory of someone who is no longer able to defend his good name; it further casts into light the open hostility of the current administration to whatever and whoever reminds him of the Catholic Church. The trolls that tirelessly and unquestioningly support him daily pound on the Church, on priests and religious like they are either womanizers or child molesters or troublesome missionary foreigners. It seems anyone who resists the evils of extra-judicial killings and human rights abuses as well as oppose certain government policies on moral-religious grounds, which often includes priests and religious, becomes fair game for vilification or, worse, assassination. The Year of the Clergy and Religious is, without a doubt, our window to how our government, and world governments for that matter, could be instruments leading to the way of the Cross, instead of Easter.
This is why the likes of Fr Edmel and other priests and religious, both young sand old, who go through the depths of human suffering are an important lamppost. The Spirit that pervaded the Savior's acts through his crucifixion is the same Spirit that pervades them too even in the pains they go through, just as he himself stayed on with the Savior till he gave up that same Spirit at death. Today we must pray earnestly that he guide us in our sufferings, strengthen our faith into charity, and turn our darkness into day.
When I saw Fr Edmel at a hospital I joked, seriously, saying, "You are suffering because of our sins." To that he smiled.
Today I would say to the Frs Edmel out there: Remember the prophet Elijah when he went to Mt Horeb to meet the Lord. Scripture says Elijah encountered the wind, earthquake and fire there but that the Lord was not in them. He was in the "qol demamah daqah" or literally "the sound of silence".